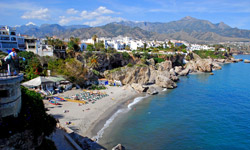 The National Hispanic Professional Organization has announced today that it will be visiting the stunning Costa del Sol of Spain, and is inviting community members, and family and friends to join them on this once in a lifetime experience.
The Costa del Sol stretches along just over 90 miles of the Malaga province and is one of Spain's most popular tourist destinations. The area's mild climate is the root attraction that makes it possible to enjoy the beaches and a wide variety of outdoor activities year round. The Costa del Sol is known for its beautiful landscapes, delicious food, all while experiencing the warmth of its people. Here you will also discover a rich cultural heritage, fabulous beaches, coastal sites, and charming hinterland villages. On your tour you will travel to the nearby towns of Seville and Rondo to take in such sights as the Alcazar Palace and Plaza de Toros, the oldest bull ring in Spain. You will have the opportunity to visit Granada and the Alhambra Palace as well as a relaxing journey to Mijas. Visiting the Costa del Sol would not be complete without a tour to Gibraltar to view the infamous Rock of Gibraltar. All of this and so much more awaits you on this splendid trip to Spain and the Costa del Sol!
"This is truly an amazing opportunity to participate in an international journey to the Costa Del Sol, where program participants can experience the country's culture, learn about its business climate, and make new friends," Chamber Discoveries Traveler.
Space is limited, so act fast. Don't miss out on this opportunity to visit the Costa del Sol, exchange ideas with local business representatives, make new friends, and build new memories.
For more information about this amazing trip please call J.R. Gonzales at (512) 289-3758 or email [email protected]